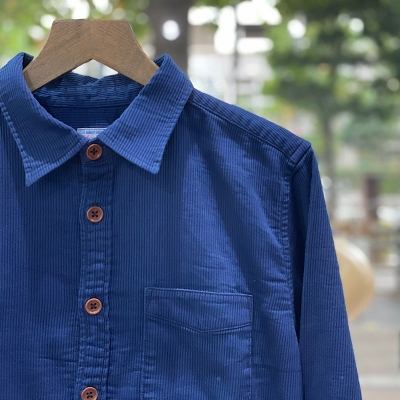 This shirt is made of indigo-dyed pique fabric.
Pique is a thick fabric with raised, thick ridges and uneven patterns.
Originally, piqué refers to a fabric with ridges in the horizontal direction.
Longitudinal piqué was called warp piqué or "Bedford cord".
Recently, warp piqué is also called piqué in general.
This fabric is made with a weaving technique called double weave.
A double weave is a weave in which two different types of yarns are used, and the front and back are woven with different structures.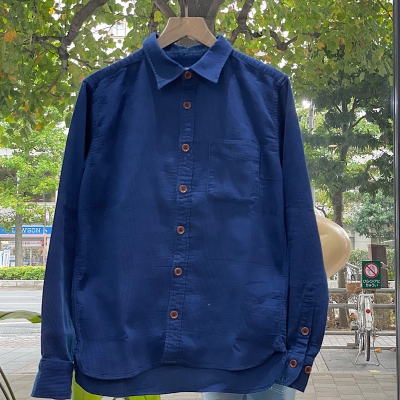 In addition to piqué, corduroy is another type of fabric characterized by a three-dimensional pattern of ridges on the surface.
Corduroy is used for fall and winter clothing because of its luster, thick texture, and comfort to the touch.
You may be thinking, "Isn't that a very thick piqué? Some people may think so.
However, corduroy is a type of pile fabric and is made in the same way as towels.
Pique is said to be stronger than corduroy.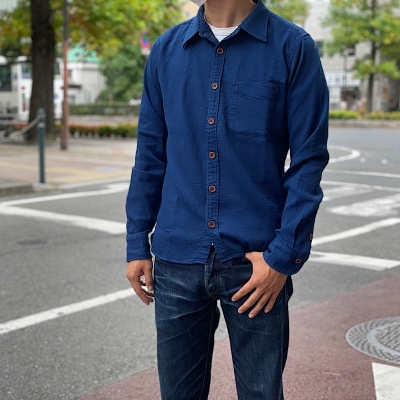 This shirt is dyed in indigo, so the color will gradually fade and you can enjoy the fade through repeated washing.
The design and details are simple so that you can enjoy the original texture of the material and Fade.
着用アイテム
05-319/ID/38
0201/ID/30
171cm/60㎏